Fr. JV Acosta, a Franciscan Priest, lead the prayer walk and anointing of holy water for the new buildings of Dr. Pablo R. Olivarez Senior High School Department, newly-built culinary laboratories, and state-of-the-art hotel for educational simulations in Olivarez College – Parañaque Campus.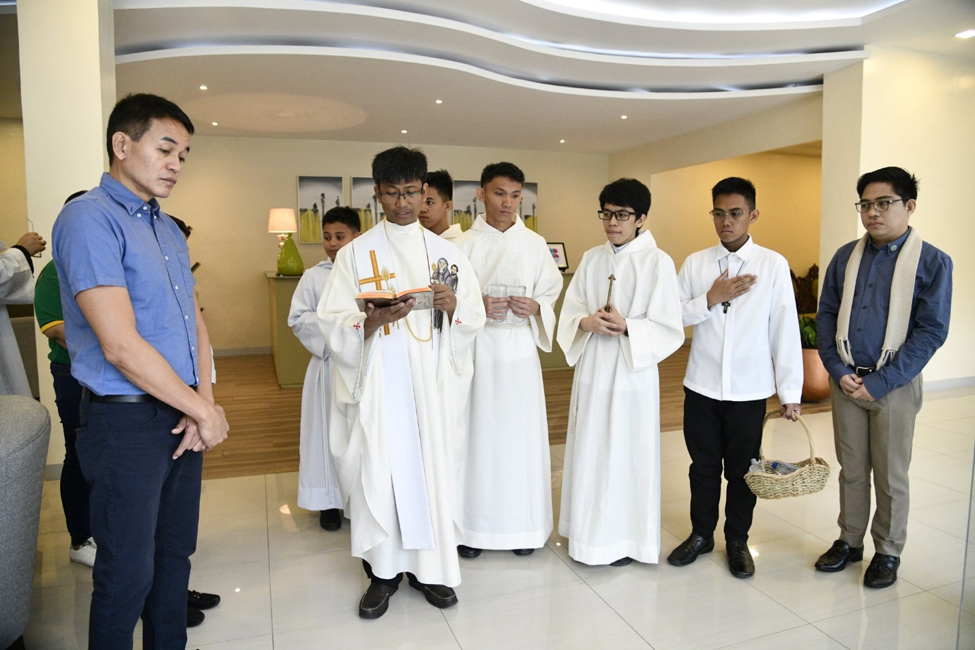 Fr. JV Acosta (Middle), Dr. Eric Olivarez (Left), Dr. Elmer De Leon (Right), together with the altar bots during the blessing and prayer walk at the hotel lobby.
      The procession and prayer walk were spearheaded by the Office of Community Extension and Campus Ministry, headed by its director, Mr. Zoren Matthew Blardony, and head for Campus Ministry, Mr. Arthur Abulencia. The procession and solemn prayer was also participated by Dr. Eric L. Olivarez, VP for Academics and Services, and Ms. Evangeline L. Olivarez, VP for Finance and Administration.
Ms. Evangeline Olivarez (Left), Fr. JV Acosta (Middle), Dr. Eric Olivarez (Right) after accomplishing the prayer walk and blessing of Holy Water
          OC's top management personalities and administrators also joined the activity, while some students and faculty members hospitably opened the rooms, offices, and laboratories in welcoming the Holy Spirit in each of the new venues of the school. This activity happened minutes before the awarding of top performing teaching and non-teaching staff of the school, and the birthday celebration of Dr. Eric L. Olivarez. With this activity, Olivarians believe that more peaceful years will come to Olivarez College.